"I wouldn't say I invented tacky, but I definitely brought it to its present high popularity." —Bette Midler
I would have to say that the Divine Miss M is a huge role model for me. Not only is she hilarious, successful (she has been nominated for two Academy Awards and has won three Grammy Awards, four Golden Globes, three Emmy Awards, and a special Tony Award), and multitalented (singer, actress, and comedienne), but she also is a fellow redheaded sister. Well at least she used to sport red hair, but it was brought to my attention that she is currently blonde. Oh well, Bette when you had red hair you rocked it!
I love the fact that Bette Midler never seems to care what other people think of her and just puts her brand of funniness out there for all to enjoy. I'm looking forward to the future release of her newest album, to be titled Leavin' Las Vegas. Hopefully, it will be out in 2010 sometime. On the new album she recorded a duet with her old buddy Barry Manilow, as well as duets with Richard Marx, Estelle, and one titled "I can Freak 2," with Gladys Night that I personally can't wait to hear! She just recently parted with her record label, and that is the reason for the delay in the record, so while we anxiously wait, I'll just have to listen to Bette Midler Greatest Hits – Jackpot: The Best Bette.
Bette is the founder of the New York Restoration Project (NYRP) a non-profit organization dedicated to reclaiming and restoring New York City parks, community gardens and open spaces. In partnership with the City of New York, NYRP is also leading MillionTreesNYC – an initiative to plant and care for one million new trees throughout New York City's five boroughs by 2017.
I could write more about the fabulous Bette Midler, but I'm sure this will be the first of many of her quotes that make it to the "Women Who Rock" page.
If you are looking for more information about Bette online, her Web site is currently under construction, so I found an unofficial site where you can get some cool "tid-bettes" at BootLeg Betty. Seriously, this site is a lot of fun and a great resource for material on Bette.
For your viewing pleasure, here's one of the love songs for men I found that was recently featured in "Episode 4" of No Songs for Men. I'm sure it was one of many performances that earned Bette her well-regarded tacky title. Pay special attention to the lyrics.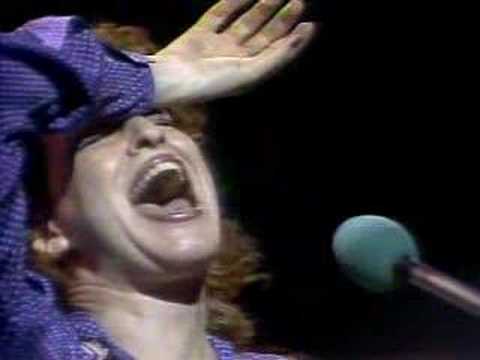 Jackpot – The Best Bette ( Amazon Exclusive Bonus Track)
Stop by every weekday for the daily quote from Women Who Rock. Your daily serving of fun, attitude, and brilliance courtesy of an amazing woman! Check out the Women Rock category for more great stuff from Bette at the Cool Stuff Shoppe for great books, DVDs and merchandise from these great women. Thank you for clicking on the ads every time you visit to help pay for this site!
Tags: Academy Award Nominee, Actress, Bette, Bette Midler, Comedienne, Emmy Award, Golden Globe, Jackpot: The Best Bette, MillionTreesNYC, New York Restoration Project, NYRP, Redhead Role Model, Role Model, Singer, tacky, Tony Award, Women Who Rock!